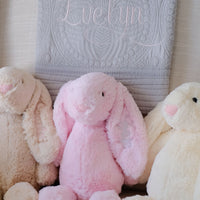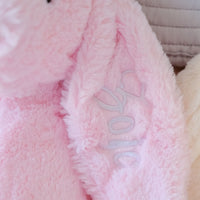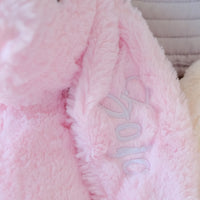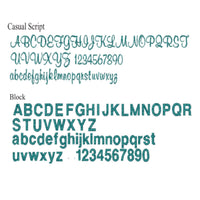 Monogrammed Stuffed Bunny
Description
This adorable monogrammed bunny is the perfect gift for a new baby or milestone picture prop (take a picture next to the bunny as the baby grows to see the difference in size!).
These bunnies are incredibly soft and plush - amazing to snuggle up and love on!
How to Customize your Stuffed Bunny:
Please leave the baby's entire name so that the monogram can be arranged correctly. Please enter the baby's name in the empty personalization box above.
Measurements:
Bunnies are 16 inches tall, and come in cream, oatmeal, pink, and blue and are soft, thick, plush material.
Returns & Exchanges
Returns are accepted on non-personalized items within 14 days of delivery. The buyer is responsible for return shipping, and a refund will be granted when the items arrives back in the original condition. The buyer must initiate the refund within 14 days of receiving the item by emailing hello@funkymonkeychildren.com.
After 14 days, the item is no longer eligible for a return or refund.
There are no returns or exchanges on monogrammed or personalized items.
If there is an issue with the item, please contact us within 7 days of receiving the item to discuss the next steps.

An effort will be made to contact you if we receive an item back as a return to sender (RTS). We will hold onto RTS items for 45 days after contacting you, and then the item will be donated.
I just purchased my 11th stuffed bunny!
The monogrammed bunny is the best baby gift. Not only is the bunny of great quality, amazingly soft but Lauren fills the order quickly with very sweet packaging.
Best baby gift ever!!
I just purchased my 10th monogrammed bunny and continue to be wowed by the quality of the bunnies, the quick turnaround, Lauren's responsiveness if I ever have a question, and how attached much the children who receive them, love their bunnies. I was just with family on a vacation and all 3 children, even the 4 year old, brought their bunnies with them.
The Best Baby Gift so far!
Excellent Quality and Timely Delivered!
Excellent communication. Fast shipping.
Excellent communication. Fast shipping.
My 'go-to' baby gift. Soft and of good qu...
My 'go-to' baby gift. Soft and of good quality.
Handmade Baby Gifts
Monogrammed and personalized baby gifts for the special little one in your life.
Shop more