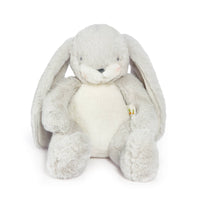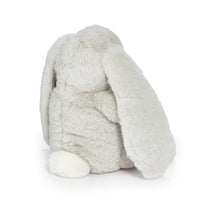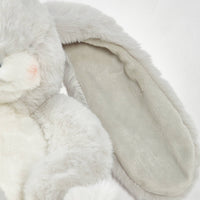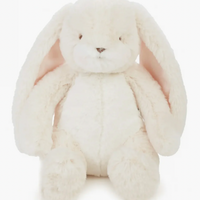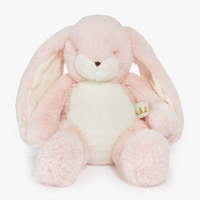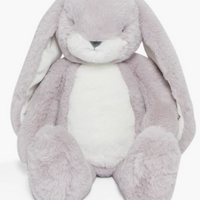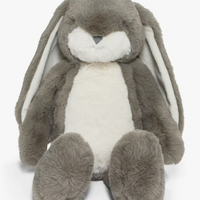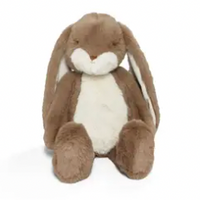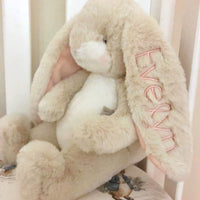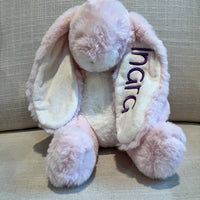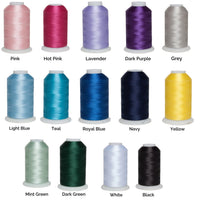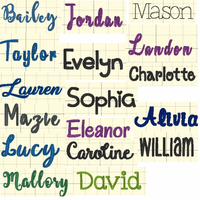 Description
Our best-selling Bunnies have been reimagined in seasonal rich and vibrant colors, featuring our signature handcrafted details.
Features: 12"(41cm) tall, measured from head to outstretched toe
Embroidered features
Safe for all ages

Please note that the longer the name that you request, the smaller the letters will be to fit. The total monogramming space of the each is about 4.5 inches across by a little less than 2 inches wide, so only a first name will fit (not first and middle).
EMBROIDERY SHOWS ON THE BACK OF THE EAR.
Please be aware of this, as refunds will NOT be offered because you are not happy with it showing.
--> If you want the back side less visible, I'd recommend doing the monogram on the outside of the ear where the ear will lay flat against the bunny's head (like the Evelyn picture)
--> If you want the bunny more for pictures (like monthly baby pictures), the inside of the ear monogram makes the name easier to read because it is not plush, but the backside of the monogramming is more visible when the ear is laying flat against the bunny's head (like the Inara picture)
Returns & Exchanges
Returns are accepted on non-personalized items within 14 days of delivery. The buyer is responsible for return shipping, and a refund will be granted when the items arrives back in the original condition. The buyer must initiate the refund within 14 days of receiving the item by emailing hello@funkymonkeychildren.com.
After 14 days, the item is no longer eligible for a return or refund.
There are no returns or exchanges on monogrammed or personalized items.
If there is an issue with the item, please contact us within 7 days of receiving the item to discuss the next steps.

An effort will be made to contact you if we receive an item back as a return to sender (RTS). We will hold onto RTS items for 45 days after contacting you, and then the item will be donated.
Handmade Baby Gifts
Monogrammed and personalized baby gifts for the special little one in your life.
Shop more